Museum of the City of New York Presents: Living Large While Living Small
City Museum Hosts Special Guests Demonstrating How to Cook, Organize & Decorate in Small Spaces; Guests to Spend 24-hour Stints Living in Fully-built Micro-unit in the Museum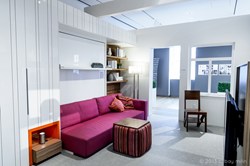 New York, N.Y. (PRWEB) August 08, 2013
In the final full month of its special exhibition, Making Room: New Models for Housing New Yorkers, the Museum of the City of New York will host a series of events showing visitors how they can live, decorate, cook and organize in small spaces all taking place in a fully-built micro-unit housed in the Museum.
Visitors will experience not just the 325-square foot micro-unit, but engage with experts as they demonstrate how to comfortably whip up a meal, arrange items and entertain, all before the Labor Day finale of the popular exhibition on September 2.
The exhibition unveiled early this year in partnership with the Citizens Housing and Planning Council – presents an array of innovative architectural solutions that could better accommodate the citys emerging housing needs, features a full-scale "micro-apartment" designed and furnished by Clei s.r.l. and Resource Furniture with architecture by Amie Gross Architects.
Additionally, over a four-day period, five people will take turns living in the micro-unit to fully experience smaller living quarters and they will interact with Museum visitors as well as the outside world via live-blogging, holding Google chats, Instagramming and tweeting during the experience.
On tap for the month of August are the following events:
Clever Ways to Dress Up and Organize Your Small Space
A large aspect of small space living is strategic organization and decor. Ann Lightfoot and Kate Berger, founders of Done & Done NYC, know this dilemma all too well and will present visitors with techniques for clever storage, as well as tricks for keeping clutter from reoccurring. Jeffrey Phillip, founder of jp., is an expert at helping clients achieve a home that is both practical and stylish and will demonstrate how to attain a fusion between organization and interior design.
Meet Ann Lightfoot and Kate Berger: Tuesday, August 13th from 1:00 PM-3:00 PM
Done & Done NYC is a household organization consultancy founded by Kate Berger and Ann Lightfoot in 2009. As lifelong New Yorkers, Kate and Ann are exceedingly familiar with the challenges of apartment living and seek to help their fellow urbanites manage their homes in a smart and stylish manner. From studio apartments in the Village to large Park Avenue duplexes, they have seen it all. Not only traditional organizers, Done & Done NYC also provides technology management and household inventory services. And they work closely with a top-notch team of outside professionals to deliver whatever a client needs, be it moving, repairs, or wine cellar management. Whether the challenge is consolidating two homes into one, preparing a home for sale, or simply making an existing space work to its maximum potential.
Meet Jeffrey Phillip: Friday, August 23rd from 1:00 PM-3:00 PM
Professional organizer and interior designer Jeffrey Phillip has had a knack for helping the organizationally and design challenged for as long as he can remember. Always the go-to guy (and kid) whenever someone needed an orderly solution or style advice, it wasnt until after college that Jeffrey discovered that his "knack" was in fact a deep and inspiring passion to genuinely help others learn how to live more efficiently.
After over five years in business and backed with a lifetime of experience, Jeffrey is a leading expert in blending style and efficiency for those seeking both practical and fashionable solutions for their everyday life. Working with everyone from the happy homemaker to the high profile individual on the go, Jeffrey works with his clients to transform their homes and offices into thoughtfully organized, stylish and welcoming spaces.
Throwing a Dinner Party in a Small Space
Great Performances, one of the citys most prestigious caterers, will have their creative director Terri Lee host 20-minute cooking and organizing demos in the micro-unit. Terri will show guests how to pull together simple, yet exquisite, meals and appetizers for friends and family while keeping minimal kitchen space organized.
Meet Terri Lee
Wednesday, August 14th at 11:00 AM (organizing), 1:00 PM (cooking), 3:00 PM (organizing), 4:00 PM (cooking)
Terris creative and holistic approach to design is a reflection of her inquisitive nature and fascination with well-designed visual organization. From an early age, she was a master at puzzleswhether it was fitting in the last few pairs of shoes into her overfilled suitcase or making sure all the unique ceramics and spices fit into her limited kitchen, Terri made sure it was functional and beautiful. Prior to coming to Great Performances, Terri designed serve-ware products and kitchen prep tools as well as exhibits for childrens museums, retail environments, and visitor centers. She has researched and developed design criteria for portable food carts and studied the human relationship to cooking and objects used in the kitchen.
Micro-Units: Can you really live here?
The Museum will have five participants live in the microunit over a 24-hour period to find out.
Emily M. will exemplify what its like to live in the apartment as a single person.
Taylor J. and Emily T. will demonstrate what its like to live in the unit, which can accommodate two single beds, as roommates just starting out in the city.
Challie S. and Lina F. will show what its like to live in the apartment as a couple.
The temporary "residents" will greet visitors, discuss their experiences, and live overnight in the unit. Visitors can track their progress through the Museums and the participants social media channels.
Meet Taylor & Emily: Friday, August 16th from 10:00 AM-6:00 PM
Taylor, 20, is from Rhode Island. She is a senior at Pratt institute where she is studying Fashion Design with minors in Art History and Cinema Studies and is interning at the Museum of the City of New York in the Costumes and Textiles department this summer. She lives in Brooklyn in an on-campus triple dorm room where she shares a kitchen and bathroom with two roommates.
Emily, 21, is from Rockland County, N.Y. She received an Associates Degree in Liberal Arts – Humanities and Social Sciences. She is currently interning at the Museum of the City of New York in the Costumes and Textiles department. She lives in a three-bedroom townhouse with her mother.
You can follow Taylor and Emily via Instagram: vividbrushstrokes, as well as via Twitter: @MuseumofCityNY and Instagram: museumofcityny.
Meet Challie and Lina: Saturday, August 17th from 10:00 AM-6:00 PM
Challie, 29, is a Design Director of Resource Furniture and her partner, Lina, 37, is an attorney. They currently live in a 650 square foot 1-bedroom apartment in Williamsburg.
Visit Sponsor AD intended for Locksmith Berkeley Ca -
Locksmith Berkeley Ca
You can follow Challie and Lina via Twitter: @resourcfurnitur and Instagram: resourcefurniture, as well as via Twitter: @MuseumofCityNY and Instagram: museumofcityny.
Meet Emily: Sunday, August 18th from 10:00 AM-6:00 PM
Emily, 27, is a San Franciscan who came to New York City by way of Oberlin College in Ohio. She is a Public Program Operations Manager at the Museum of the City of New York. An Upper West Sider, she and her boyfriend just moved this past July to a one-bedroom apartment with remarkable closet space, no counter space and too many books to mention.
You can follow Emily via Twitter: @MuseumofCityNY and Instagram: museumofcityny.
About the Museum of the City of New York
Founded in 1923 as a private, nonprofit corporation, the Museum of the City of New York celebrates and interprets the city, educating the public about its distinctive character, especially its heritage of diversity, opportunity, and perpetual transformation. The Museum connects the past, present, and future of